The easiest way to collect
design feedback
Save time and prevent miscommunication during design feedback and revision. SimpleStage gives you and your clients the ability to share visual feedback on your website designs.
Discover how SimpleStage helps you collect design feedback
Website
design feedback

tools

With SimpleStage, freelancers and agencies can iterate quickly as they receive design feedback during website projects. We collect and manage the feedback, so you can get out of email and back to the important stuff.

Visual Feedback
Draw and Annotate
Unlimited Collaborators
Automated Email Reminders
Visual context

means you and your clients have all of the details you need to keep timelines moving forward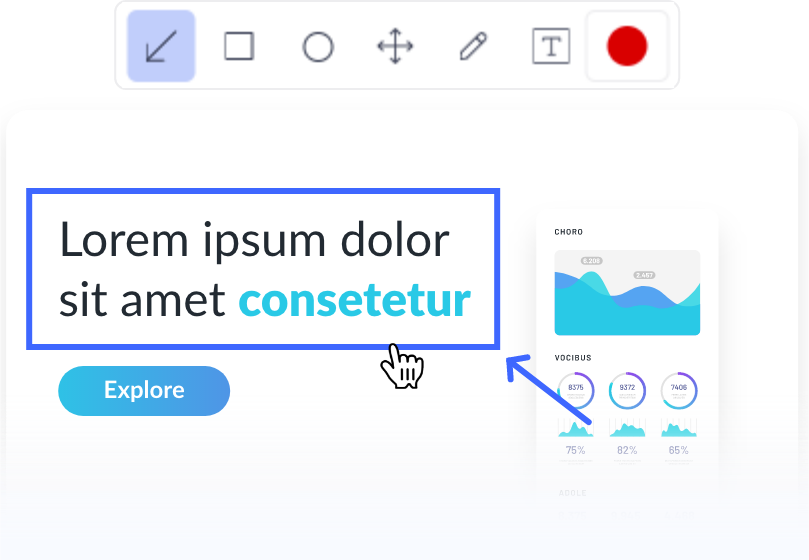 Speed up communication

during web projects to improve your client's experience by reducing the back-and-forth emails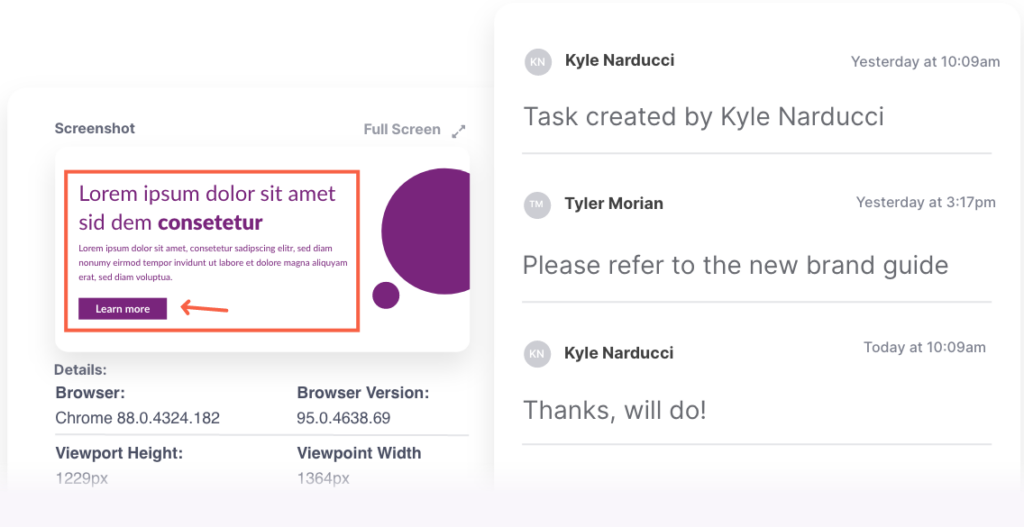 Single source of truth

for website design feedback means no more digging through email, chat, spreadsheets and docs

SimpleStage Website Design Feedback
Features
Shared documents, emails, and chat just won't cut it. Our website design feedback tools are intentionally built to improve your website creation process. Share website designs in way that gives clients the tools they need to provide actionable feedback and the tools you need to quickly iterate.
Speed up design review
SimpleStage allows your clients to provide specific visual feedback that designers can see and understand. Our design feedback tools gives your clients the ability to draw, circle, or leave text directly on to the designs.
Annotate designs
With the ability to annotate directly on design elements, clients will feel empowered to communicate effectively. Annotations can easily be viewed in a list view to quickly see all the design feedback your clients left.
Automated Client Reminders
Request feedback on designs from your clients and SimpleStage will handle the follow-up. Emails will be sent to your clients however often you choose, because we understand some clients may need a few more reminders than others!
Figma Integration
Sync your designs to SimpleStage directly from Figma. No need to upload and export, designs sync quickly to your content requests and create new versions as you re-sync.
Version History
Upload revised versions of designs as you collect content and continue to share and collaborate using the same link.
Email Notifications
Get notified when clients finish leaving feedback on each design screen you assign to them.
Who's going to
love

SimpleStage?
Your Clients
Improve your client experience by giving them a platform to collaborate with you during web projects. SimpleStage will increase their productivity and make it easier for them to communicate with you.
Web Designers
Collecting feedback during the web design process has never been easier and with visual references to the feedback that clients leave, web designers will be able to quickly iterate.
Marketers
SimpleStage makes it easy for marketers to collaborate with clients on landing pages and website pages that will improve their campaigns and help you produce great results.
Frequently asked questions
How do I request design feedback using SimpleStage?

To request design feedback, you begin by creating a design feedback request and uploading your design screens. Once a screen is uploaded, you have the ability to add any notes or annotations to provide more context for your clients or simply leave them as is. When you have uploaded all of the designs for your clients review, you can send the request to as many collaborators as you need by clicking Send Request. Clients will be automatically reminded if they have not provided any feedback on a screen, and you will be notified as feedback is submit.

What else can SimpleStage do?

SimpleStage is a platform to help web agencies and freelancers collaborate with their clients during the entire website design and development process. SimpleStage includes design feedback tools, content collection tools, and website feedback tools. We are the complete solution for collecting client feedback and managing client communication.

What is the difference between a project and a request?

A project in SimpleStage is a way to organize all of the collaboration and communication regarding a deliverable. For example, a new website could be a project. A request is an invitation for a client to provide feedback or content on a specific aspect of a project. For example, during the course of a project you may create a request for your client to provide design feedback on an individual page of a website during a new website project.
More than just
Design Feedback Tools
SimpleStage offers design feedback, website feedback, and content collection tools to simplify your website creation process and give your clients one single place to collaborate with you. SimpleStage makes it easy for your clients to provide clear and productive feedback during the website design and development process.
Content Collection Tools
Simplify sharing design deliverables and collecting feedback with SimpleStage.
Website Feedback Tools
The SimpleStage website feedback widget is installed directly to your website to collect bugs and feedback.