Website
content collection

tools

Take the confusion and stress out of gathering website content. SimpleStage gives web agencies and freelancers the tools they need to keep website projects on time and on budget.
Discover how SimpleStage helps you collect website content
Website
content collection

tools

With SimpleStage, your designs are front and center to give your clients the context they need to write intentional website content.

Visual Reference For Content Entry
Customizable Fields
Single or Multiple Collaborators
Version History
Visual reference

with content fields right on top of your designs helps clients see what they are writing for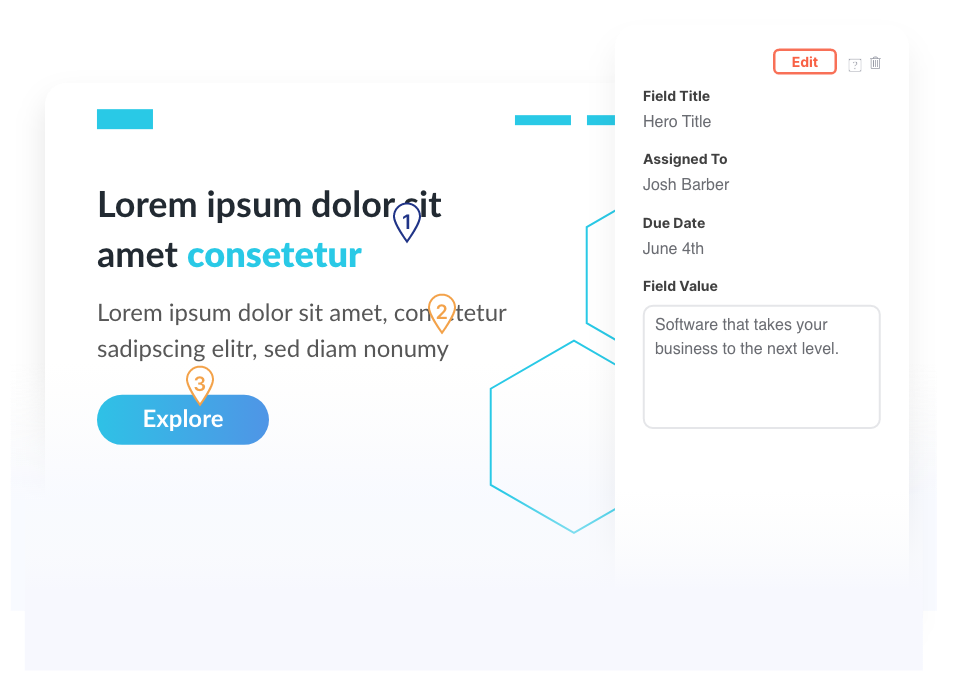 Keep projects on-time and within budget

by setting deadlines and creating automated email reminders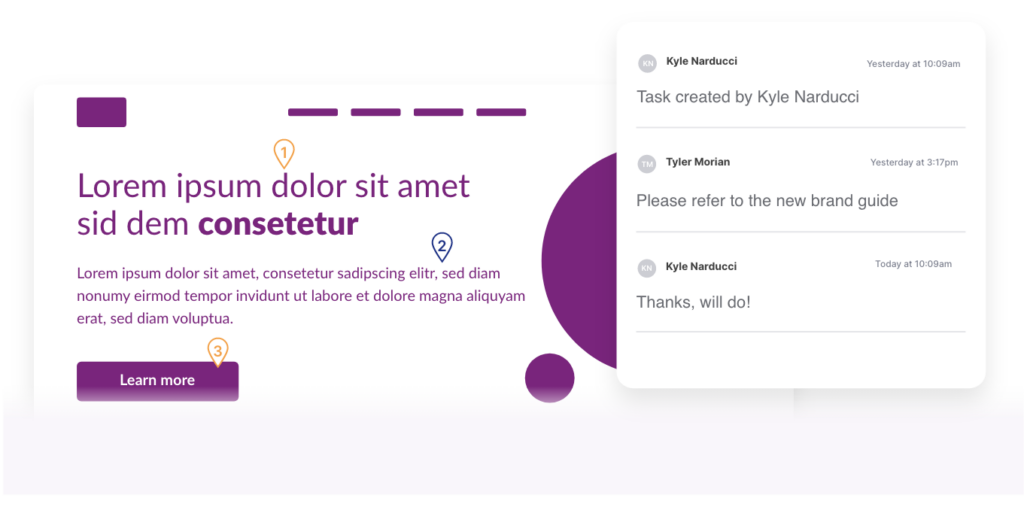 Single source of truth

for website content means no more digging through email, chat, spreadsheets and docs to find content

SimpleStage Website Content Collection
Features
Shared documents, emails, and chat just won't cut it. Our website content collection software is intentionally built to improve your website creation process. SimpleStage gives you all the features you need to collect content and remove the back-and-forth with clients.
Field Types
Multiple field types give you the flexibility to collect the right content for your website project. Text and Image fields available today. More field types to come!
Minimum and Maximum Character Count
Give your clients specific parameters for the copy they are completing, in order to avoid writing copy that doesn't work well in a specific section on the design.
Collaborate with multiple writers
Add as many client collaborators as you need to get the job done. Collaborators have the ability to see who wrote what copy and when it was written.
Automated client reminders
Request content from your clients and SimpleStage will send automated reminders to them for deadlines, which means more profitability on your projects in the long run.
Figma Integration
Sync your designs to SimpleStage directly from Figma. No need to upload and export, designs sync quickly to your content requests and create new versions as you re-sync.
Design Revision History
Upload revised versions of designs as you collect content and continue to share and collaborate using the same link.
Autosave
No need to click the save button. Content is saved automatically as you enter it, so nothing is ever lost.
Screen View
Add content fields and populate them using our visual screen view. Screen view gives clients all of the context they need to write great content for their website.
Email Notifications
Get notified to review as content is entered and leave comments to help guide the content writing process.
Assign Content Fields
Add multiple collaborators and assign content fields to give clear direction on who is responsible for specific content.
Content Field Due Dates
Assign due dates to fields individually and a due date for content requests to help keep the project on track.
Who's going to
love

SimpleStage?
Your Clients
Improve your client experience by giving them a platform to collaborate with you during web projects. SimpleStage will increase their productivity and make it easier for them to communicate with you.
Copywriters
Collecting website content from your copywriting team is fast and easy with SimpleStage. Copywriters have visual references to see the section they are writing for, as well as how long the content should be.
Marketers
SimpleStage allows marketers to collaborate on content with clients to determine what copy and content will make the most impact on their campaigns and landing pages.
Frequently asked questions
What makes SimpleStage better than the competition?

Content collection software is typically built for collecting many different types of content. Competitors like ContentSnare and GatherContent do a good job of allowing you to collect generic content, but they lack the tools you need when collecting content specifically for a website project.

Without visual reference of the design, clients unintentionally provide content that is too long, too short, confusing, or out-of-context with the design. SimpleStage provides a visual reference for clients to see where they are writing content for within the web design. Our software gives clients all the necessary information they need to provide great content such as word minimums and maximums.

How do I request content using SimpleStage?

To request content, you begin by creating a content request and uploading your design screens. Once screens are uploaded, you have the ability to add content fields right on top of your designs. Task markers show clients where content belongs. Once you have created all of your content fields, you can send the request to as many collaborators as you need by clicking send request. Clients will be automatically reminded if they have incomplete content fields, and you will be notified as content is added.

What else can SimpleStage do?

SimpleStage is a platform to help web agencies and freelancers collaborate with their clients during the entire website design and development process. SimpleStage includes design feedback tools, content collection tools, and website feedback tools. We are the complete solution for collecting client feedback and managing client communication.

What is the difference between a project and a request?

A project in SimpleStage is a way to organize all of the collaboration and communication regarding a deliverable. For example, a new website could be a project. A request is an invitation for a client to provide feedback or content on a specific aspect of a project. For example, during the course of a project you may create a request for your client to provide design feedback on an individual page of a website during a new website project.
More than just
Content Collection Tools
SimpleStage offers design feedback, website feedback, and content collection tools to simplify your website creation process and give your clients one single place to collaborate with you. SimpleStage makes it easy for your clients to provide clear and productive feedback during the website design and development process.
Design Feedback Tools
Simplify sharing design deliverables and collecting feedback with SimpleStage.
Website Feedback Tools
The SimpleStage website feedback widget is installed directly to your website to collect bugs and feedback.