Website Feedback

and Bug Tracking Software

Using the SimpleStage website feedback widget, you can collect and manage website feedback and bugs to keep projects moving forward.
Discover how SimpleStage helps you collect website feedback
Website
feedback and bug tracking

tools

SimpleStage keeps track of website feedback and bugs directly on the webpage to help your team quickly understand the feedback left by your clients.

Automatic Screenshots
Browser Details With Every Task
Annotate Directly On Website
Multiple Collaborators
Annotation tools

directly on your website empowers clients to leave helpful feedback that your team can understand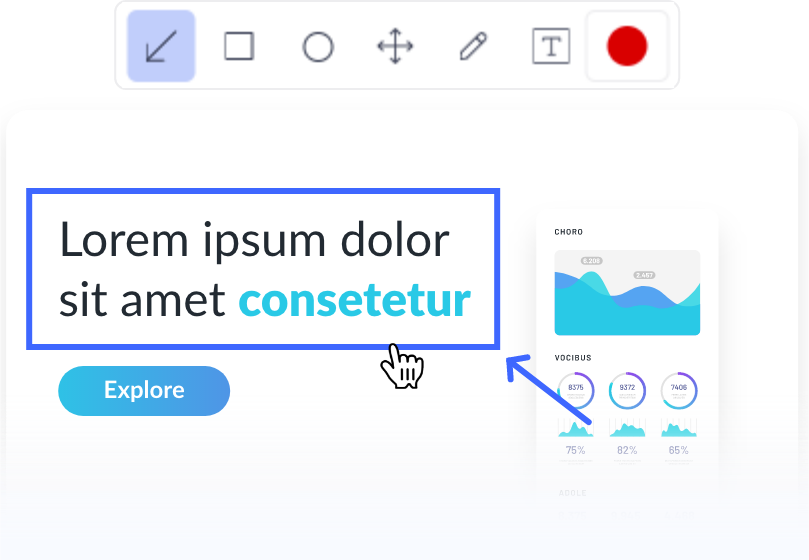 Speed up communication

 during web projects to improve your client's experience by reducing the back-and-forth emails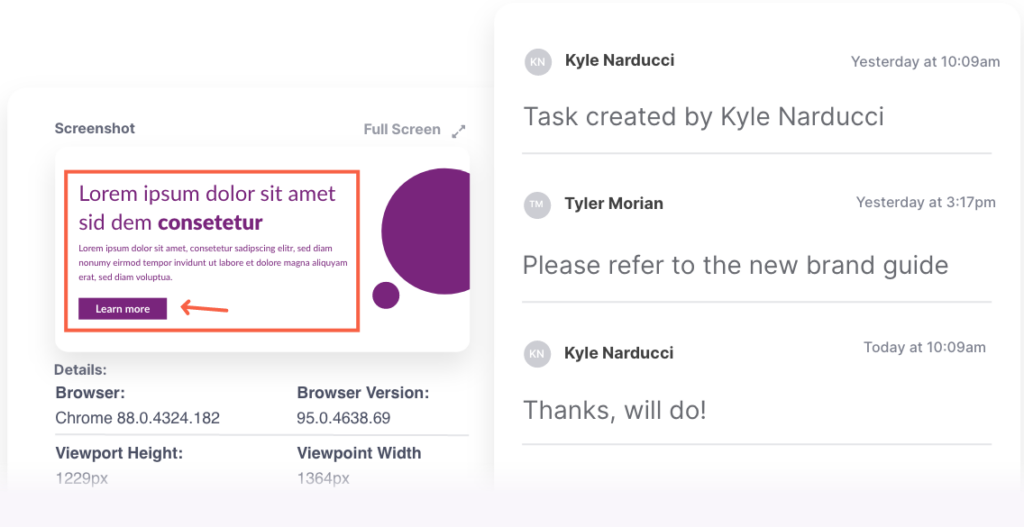 Single source of truth

for website feedback means no more digging through email, chat, spreadsheets and docs to find revision requests

SimpleStage Website Feedback Tool
Features
SimpleStage saves you time by collecting the important details such as browser type, version, screen size, as well as screenshots for visual context. All the features you need to collect actionable feedback without back and forth email chains.
Website Feedback Widget
Install the SimpleStage widget on a live or staging website and collect website feedback from logged in SimpleStage users.
Automatic Screenshots
SimpleStage takes a screenshot of the website when your clients submit tasks to give you a convenient visual reference.
Browser Details Automatically Included
SimpleStage automatically captures information about the client's browser as they create tasks helping you quickly reproduce hard to track down issues.
Kanban Task Management
Tasks automatically populate an easy-to-use kanban task management board for you to categorize, assign, and complete.
Unlimited Collaborators
Multiple stakeholders? No problem. Add as many client collaborators as you need to get the job done.
Bug Tracking Software
Clients can easily provide more context with helpful annotations directly on site. Arrows, lines, text, and more annotations give you the info you need.
Who's going to
love

SimpleStage?
Your Clients
Improve your client experience by giving them a platform to collaborate with you during web projects. SimpleStage will increase their productivity and make it easier for them to communicate with you.
Web Developers
Reproducing issues has always been a challenge in the website development process. SimpleStage makes it easy to understand feedback and bugs with the added context of screenshots and browser info automatically included.
Web Designers
SimpleStage makes it easy for web designers during the design review process of a website design and development project.
Frequently asked questions
How do I collect website feedback using SimpleStage?

To collect website feedback from your clients, simply add the script to any website you're working on and SimpleStage will show an interactive set of feedback collection tools and bug tracking software for anyone logged into the SimpleStage platform. This allows collaborators to document bugs and provide feedback without leaving the website. The web tools allow you to designate specific areas and "mark up" directly on top of the website to provide additional context to your feedback. SimpleStage automatically captures information about the client's browser as they create tasks helping you quickly reproduce hard to track down issues.

What else can SimpleStage do?

SimpleStage is a platform to help web agencies and freelancers collaborate with their clients during the entire website design and development process. SimpleStage includes design feedback tools, content collection tools, and website feedback tools. We are the complete solution for collecting client feedback and managing client communication.

What is the difference between a project and a request?

A project in SimpleStage is a way to organize all of the collaboration and communication regarding a deliverable. For example, a new website could be a project. A request is an invitation for a client to provide feedback or content on a specific aspect of a project. For example, during the course of a project you may create a request for your client to provide design feedback on an individual page of a website during a new website project.
More than just
Website Feedback Tools
SimpleStage offers design feedback, website feedback, and content collection tools to simplify your website creation process and give your clients one single place to collaborate with you. SimpleStage makes it easy for your clients to provide clear and productive feedback during the website design and development process.
Design Feedback Tools
Simplify sharing design deliverables and collecting feedback with SimpleStage.
Content Collection Tools
Put your designs front and center to give your clients the context they need to write intentional website content.