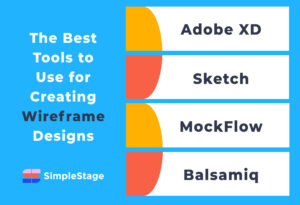 In the development stages of a website, knowing how to design a website wireframe is essential for project planning. By making this map, both you and your client get a clear picture of the website structure and where content will go. This can help dictate content length and type, as well as establish a clear flow from page to page. In this post, we discuss the importance of annotating your wireframes and the best tools to quickly create seamless wireframes for your clients.
How to Design a Website Wireframe
Designing a website wireframe starts with research and planning.
Personas
Start your website wireframe production by researching your ideal customer persona. The type of person you are trying to reach should dictate the design of your website.
For instance, are you trying to reach an older adult population? Then perhaps you'll want to incorporate larger buttons with block text for easy viewing. Targeting a female population? Design for a flow that is more attractive to your audience.
User Flow
How will users navigate your webpage? What can you do to simplify this navigation by designing a more intuitive pathway through your content?
Developing a solid user flow may require some research and testing to see how the average user interacts with a design similar to your plan.
Design Your Wireframe
Once you have an idea of who will be using your website and how they will navigate it, it's time to plot out your web design wireframe sketch. Keep it simple in black and white to start off with. It should act just like a house blueprint, showing only the important elements in a stripped-down form.
Collect Feedback Using Annotated Wireframes
Now that you have a website wireframe, it's time to collect feedback. Deliver your annotated wireframes to your clients to get input from them to make sure expectations are still aligned.
Pro tip for annotating wireframes: Provide plenty of context to your wireframes before or during your wireframe presentation. This will help give your clients clarity when they see the bones of the site. If you plan to execute a specific feature on the site but are unable to showcase it in wireframes, include links to examples of other sites with those features. Delivering more context will help your clients see your vision.
The right tools make this collaboration process straightforward. Using SimpleStage, it's easy to upload your wireframe designs, add annotations, and collect feedback from your clients. By collecting feedback at this stage, your timeline stays on track and you can avoid beginning design on an underdeveloped webpage.
Looking for a way to improve the way your agency collects design and website feedback?
SimpleStage is the only platform that unifies the client experience by providing tools to help agencies collect content, feedback and track bugs.
Learn More
Tools to Use for Creating Wireframe Designs
Making a wireframe is simple with the right digital tools. Choose from one of the following four tools to plot out your web page and create a sleek, professional design.
Adobe XD
Dial into the suite of UI/UX design tools on Adobe XD. Specifically, the Platforma Wireframe Kit provides a large library of templates to start your design project. Each of the design layouts is fully customizable to match the color, design, and sizing for your site.
Available for a low monthly fee, Adobe XD also opens up access to more than just wireframe tools to help you design your websites.
Sketch
MacOS users will enjoy Sketch's collection of site design tools—including wireframe tools—downloadable directly in the app. Users of other operating systems can also make use of these professional grade tools in a browser version.
Using this web design wireframe sketch tool comes with a collection of great options like vector editing and OpenType fonts, plus loads of plugins and extensions to further your creativity and your website's capabilities.
MockFlow
The powerful WireframePro program from MockFlow hosts a digital drawing board for wireframe design. Users can access the editor in downloadable versions for both Mac and Windows.
Tools within the drawing board include button options, shapes, image placeholders, ad blocks, scrollbars, and more. View your design in a multitude of page views to get the best idea of how your page presents for users. Export in formats such as MS Word, Adobe PDF, HTML, and more for the most functionality possible.
A community-sourced store is full of unique components other designers have created and uploaded for optional purchase. Included are a variety of components such as MS Fluent Design and Salesforce.
MockFlow is ideal for design with client input due to its collaboration features that permit discussion in real-time, including the annotation and presentation options.
You'll produce a detailed, complete wireframe for any website with this powerhouse website mockup design tool.
Balsamiq
Available in both a cloud and a desktop app, this web design wireframe sketch tool is meant for those who are not "techy." The drag-and-drop program was designed for anyone to be able to pick it up in minutes.
Balsamiq promises a wireframe design that is easy, fast, and fun.
For users who enjoy the feel of sketching out their design, they'll find Balsamiq's low-fidelity tool is an ideal digital alternative. The entirety of the program is designed for quick work so you can plot out a design without getting stuck on any technical hiccups.
Up Your Game With Annotated Wireframes
With the right research and tools in your arsenal, designing better wireframes as part of your website development process is possible. You'll come away with more detailed plans and closer collaboration with clients when you deploy one of these tools for the design process.
Get professionally styled layouts and templates with simple point-and-click design systems to save time that you'd waste in non-wireframe-specific design programs. Your designs will be sharper and cleaner while your workflow is more efficient.