Having a million things on your to-do list can be stressful for your team. When you want to improve your workflow and maximize productivity, you need a task management solution that helps you move your tasks forward at the right times. Kanban task management can help you do just that. In this article, we'll explain how Kanban can help your agency — including specific teams — stay focused and efficient.
What Is Kanban Task Management?
Kanban task management is a framework that empowers teams to visualize their tasks on one central board. A board should include at least three columns — traditionally, labeled as To Do, Doing, and Done — that represent where you're at with your tasks. Using this visual framework, you can quickly see which of your tasks are planned, in-progress, or complete at any given time.
Kanban task managers also focus on limiting your work in progress (WIP), or the amount of tasks your agency works on at once. The amount of items in your backlog can be overwhelming. Kanban task management keeps the number of active tasks on your board — and under each column — doable for your team.
When you commit to a task (or "card") by placing it under "To Do," you should have the capacity for it. If you move a task to "Doing," others should already be "Done." Here is how your kanban boards will be displayed each time you set up a new project in the SimpleStage App –
2 Ways To Structure Your Kanban Boards
The traditional, three-column structure isn't the only way to design your board. Kanban task managers can also design boards that perfectly reflect a specific process or that works for a specific team. Here are two examples of Kanban boards your agency can create that stray from the basic format.
1. Web Team Kanban Board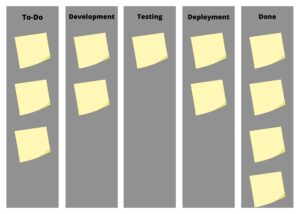 (Created in Canva)
Between putting tasks on your to-do list and completing them, your web team goes through a few more stages of work. Creating a team-specific board allows you to better visualize exactly what it means for a task to be in-progress. Development, testing, and deployment are three highly distinct phases that you can highlight.
Adding more columns also makes it clearer to your web team where you're getting stuck if your workflow isn't moving along smoothly.
2. Content Team Kanban Board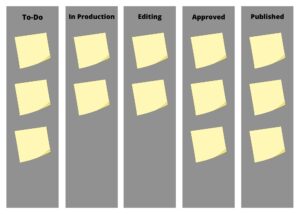 (Created in Canva)
Your agency's content team similarly goes through more than three steps in its production process. In some cases, content is even collected from clients. A content team Kanban board can help you visualize where tasks are being handed off between your agency and your clients. Plus, instead of ending with "Done," you can clarify when content is complete and approved versus published.
3 Benefits of Kanban Task Management Solutions
Once created and popularized by Toyota, the auto manufacturer, Kanban is now widely used in website design, software development, and similar fields. It's a proven driver of efficiency, whether you want to push a website live or streamline your content collection.
If you're not sure if a Kanban task management solution is right for you, consider these three perks of opting for Kanban.
1. Visualize Your Task Status
The most obvious perk of Kanban task management solutions is their ability to show you where your team is at. Since each task is displayed with its own sticky note or digital card, one glance can show you exactly what phases your team members are in. It increases transparency across your agency by giving you a simple way to communicate progress.
2. Optimize Your Workflow
Kanban task management can help you improve your workflow by removing key bottlenecks that are stunting your progress. With a Kanban board, you can quickly see where things are getting caught up. Your Kanban task manager can alert you of changes that you need to make.
For example, let's say your web team Kanban board shows that your agency is struggling to move tasks in and out of the "Testing" column. As a result, you'll know that your testing process needs to be optimized. If you're running into roadblocks across your Kanban board, you may recognize that your agency doesn't have the capacity for the number of tasks you're taking on.
3. Track Your Daily Tasks
Kanban boards can also help individuals in your agency keep better track of their daily tasks. Without a Kanban task manager, your to-dos can easily get lost in the midst of other tasks. This visual framework makes it clear what's left to complete and what tasks you need to prioritize to move forward.
Stay on Top of Tasks With a Kanban Task Management Solution
Kanban task management is a highly visual framework that can help your agency stay on-task and continuously improve its workflow. It's also a low-effort way to increase transparency across your entire team. You can get started by creating a basic, three-column Kanban board, or you can customize a board that perfectly fits your existing workflows.
Looking for a way to improve the way your agency collaborates with clients and stakeholders?
SimpleStage is the only platform that unifies the client experience by providing tools to help agencies collect content, feedback and track bugs.
Learn More