When you're building a website, meeting internal deadlines on the tasks is the easy part. You're an expert at what you do. But your agency can't reach milestones without contributions from clients. To keep your projects on track, your team must master effective client communication.
Web project management depends on your ability to inform clients about their role. When requesting feedback or content, clients should know what they need to send and why.
The more aware clients are of their key roles in the website creation process, the more available they'll be to contribute. From creating timelines to using website design review tools, here's how you can help your clients become rock star collaborators.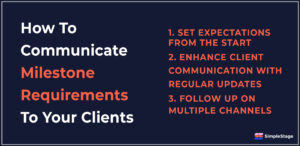 1. Set Expectations From the Start
Before your project starts, it's crucial for your team to set clear expectations. Sit down with your clients for a kick-off meeting to lay the foundation for a productive relationship. This meeting is your chance to take these two steps, which are key for communicating milestone requirements:
Hash Out a Detailed Timeline
By the time of your kick-off meeting, you and your clients likely have a target launch day set. This meeting allows you to clarify what's happening at each stage — and what clients need to provide for you to meet the key milestones along the way.
Be clear about deadlines, so your clients are aware of how they fit into the puzzle. Then, agree upon what happens if clients don't meet their deadlines. For example, if you don't receive content for a web page in time, will you delay that portion of your project, or will your entire project get put on hold? Once a client provides the content you need, when will they be able to review an updated version of the web page?
Pro tip: Add buffer time between deadlines. This way, you can still meet milestones, even if clients submit content or feedback late.
Explain the "Why"
Your clients are business owners themselves. They have other priorities. Contributing to the website project may be low on their task lists or even daunting for them. Without effective client communication, some clients may even assume that their role is optional.
Getting clients invested is key for smoother web project management. Explain why their contribution matters. For example, you may mention how timely client feedback allows your agency to fully meet their vision in future updates.
Treating your clients like team members is another great way to give them a sense of purpose. Give your clients a reason to see your relationship as a collaboration, rather than outsourcing. When they do so, they'll be more likely to treat your priorities as their own.
Looking for a way to improve the way your agency collects design and website feedback?
SimpleStage is the only platform that unifies the client experience by providing tools to help agencies collect content, feedback and track bugs.
Learn More
2. Enhance Client Communication With Regular Updates
When your project is underway, effective client communication must continue. Your agency should provide clients with detailed weekly updates, whether that's via email, video call, or another channel.
Each of these updates should include the tasks completed and budget spent in the past week. To help hit milestones, also include upcoming deadlines for both you and your clients. This gives your clients a timely reminder — one that's early enough for them to block out time, but not so far ahead that deadlines will slip their minds.
If you're still waiting on items from your client, highlight missed deadlines in your update, too. Often, this subtle nudge is all it takes for clients to submit what you need. Plus, this ensures the reason for delay is in writing, so clients are aware that your team can't proceed without them.
3. Follow Up on Multiple Channels
When your client misses a deadline, it's not an opportunity for your agency to slack off, too. In web project management, your goal is always to hit your milestones, even if there are a few bumps in the road.
Within 24 hours after a deadline slips by, follow up with your client. And if they don't respond on the first channel, consider trying another.
Clients aren't always trying to ignore you. Sometimes, you might not be reaching them on the right channels. By following up on more than one channel, you offer more convenience to your clients. Plus, this will communicate the importance of client tasks.
Following Up With a Website Design Review Tool
A website design review tool can be your secret weapon for effective client communication. SimpleStage, for example, allows you and your clients to create threads and follow up right on your design file. When your client reads your message, they'll already be on the page they need to review.
By making communication easier for your clients, you help them meet key milestone requirements.
Drive Effective Client Communication
Strong web project management depends on your ability to communicate with clients. Luckily, mastering this skill can be simple. When you set expectations, keep clients updated, and follow up on missed deadlines, you help clients help you.